This website uses cookies. To read more about them, click 'cookies stored'. To accept our cookies, click the check box then press 'Continue'.
Borders Family History Society

Our Archive and Search Room is open every Monday from 6pm to 8pm, and every Tuesday, Thursday and Friday from 10am to 4pm.
Archive and Search Room, Galashiels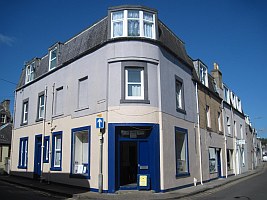 The Society has its own archive and search room at 52 Overhaugh St, Galashiels, TD1 1DP, Scotland, and this houses our collection of family history material, our own and other publications, which are available for visitors to do their own research.
Our own and some other publications may be purchased here, when the search room is open.

The archive and search room is open on
Mondays 6pm - 8pm
Tuesdays 10am - 4pm
Thursdays 10am - 4pm
When there is heavy demand during the day, access will be in sessions 10 am to 12 pm, 12 pm to 2 pm, 2 pm to 4pm; these sessions will be limited to 2 teams of one or two people.

It's free to do research however donations are very welcome.
If you're unable to come on those days, we may be able to arrange access at other times by reservation at least a week in advance.
Please note that the archive and search room will be closed between 19 December 2015 and 10 January 2016.
For reservations, please make an Archive Appointment Request quoting your email address as well your name, and desired appointment date and time.
Please make sure you have confirmation before assuming the booking is definite.
We would appreciate as much prior notice as possible..
You can phone us on +44 01896 750387 during working hours. We're sorry but we can't phone you back.

We had an exhibition about the former Peel Hospital, near Clovenfords but it closed on 25 September.
Before that we had an exhibition about World War I but it's closed. For more information, download the World War I exhibition report.

See this map or our transport to the archive page for directions to 52 Overhaugh St. The Archive is on the corner of Overhaugh St and Bank Close.
There is no parking by the Archive.

Short term parking may be available in Bank Street which runs parallel to Overhaugh St.

Further away, there are car parks at Tesco and Asda where you can park at no cost for 3 hours.

The archive is about 5 minutes walk from Galashiels Bus Station in Stirling St.

The Archive comprises the following:
Search the category index and the topic index to the Books and Pamphlets.

Look at the CD Catalogue for the CDs which can be used on the computers in the Archive.

Look at the Microfiche Catalogue - these microfiche sheets and microfilms which can be used on the microfiche readers or the microfiche reader/printer in the Archive.

Search the surname index to the paper and GEDCOM Family Trees (Pedigree Charts).