This website uses cookies. To read more about them, click 'cookies stored'. To accept our cookies, click the check box then press 'Continue'.
Borders Family History Society

Our archive and search room is now open on Tuesdays and Thursdays from 10am to 4pm. Keep up to date via our Facebook page and Twitter.
Archive and Search Room, Galashiels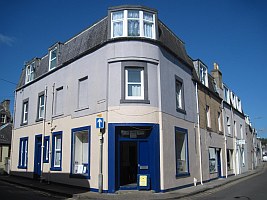 The Society has its own archive and search room at 52 Overhaugh St, Galashiels, TD1 1DP, Scotland, and this houses our collection of family history material, our own and other publications, which are available for visitors to do their own research.
Our own and some other publications may be purchased here, when the search room is open.

The archive and search room is open on Tuesdays and Thursdays from 10am to 4pm.
If these times don't suit you, please make an alternative appointment and we'll try to find volunteers to help you.
See the Contacts page to make an appointment.
Please regard appointment requests as tentative until confirmed.

You can phone us on +44 01896 750387 during working hours. We're sorry but we can't phone you back.

It's free to do research, however donations are very welcome.

See this map or our transport to the archive page for directions to 52 Overhaugh St. The Archive is on the corner of Overhaugh St and Bank Close.
There is no parking by the Archive.

Short term parking may be available in Bank Street which runs parallel to Overhaugh St.

Further away, there are car parks at Tesco and Asda where you can park at no cost for 3 hours.

The archive is about 5 minutes walk from Galashiels Bus/Rail Station (also known as Galashiels Interchange) in Stirling St.

The Archive comprises the following:
Search the category index and the topic index to the Books and Pamphlets.

Look at the CD Catalogue for the CDs which can be used on the computers in the Archive.

Look at the Microfiche Catalogue - these microfiche sheets and microfilms which can be used on the microfiche readers or the microfiche reader/printer in the Archive.

Search the surname index to the paper and GEDCOM Family Trees (Pedigree Charts).