This website uses cookies. To read more about them, click 'cookies stored'. To accept our cookies, click the check box then press 'Continue'.
Borders Family History Society

Kirkhope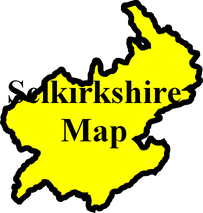 Although an ancient Parish in its own right the Parish was reformed in 1852 when it was disjoined from the Parish of Yarrow. It is once more combined with Yarrow as part of a combined parish that also includes Ettrick. The present Parish in the County of Selkirk is bounded on the north-west by the Parish of Yarrow on the north east by the Parish of Selkirk, on the east by the Parish of Ashkirk in Roxburghshire, on the south-east by the Parish of Roberton and on the south-west by the Parish of Ettrick.

Old Parish Records cover the periods:

Births: 1852 to 1854.
Marriages: 1851 to 1854.

Earlier records relating to births, marriages and deaths will be found in the Parish of Yarrow.

1861 census Kirkhope.
CD-ROM Kirkhope Monumental Inscriptions recorded by Selkirk Antiquarians - includes:

Regulations for use of the Hearse
War Memorial transcription
Ettrick Bridge Roll of Honour
School Register 1876 to 1880
Kirkhope teachers from 1873
School Board and Log Book
Ettrick and Yarrow Militia Lists

See our sales list for full details and cost of postage.

Kirkhope Parish Church
Volumes available for consultation within our Archive
Rutherford's Southern Counties Register and Directory 1867.
County Directory of Scotland 1912 - Borders Towns and Villages.
CD-ROM Berwickshire, Banffshire, Peeblesshire and Selkirkshire Trades Directory 1837.
Magazine Articles
Please note that the heading Author includes persons who have compiled or transcribed records; and that the topics indexed, and the synopses are subjective opinions.
See the Sales List to buy copies of the magazines containing articles in which you're interested.
| Title | Synopsis | Size Description | Issue No | Author |
| --- | --- | --- | --- | --- |
| A Policeman's Lot | Article on the lie of Alexander Linton born in 1829 at Kirkhope who became a river bailiff and later a policemen in Caithness. Requirements for admission to the police force and some general background regarding a policeman's lot. Letter he returned to the Borders and had various positions; as a factory night watchman, as a stone dyke builder and was still employed as a stonebreaker at age 71. | 3 pages or more | 79 | Charles Borthwick |



Map of Kirkhope from Quarter-inch to the mile, Scotland, 1921-1923 or One-inch to the mile, Popular edition, Scotland, 1920-1930
by kind permission of the National Library of Scotland.
Use the control at the top left of the map to zoom in or out and drag the map left, right, up, or down as you wish.
20 Most Common Surnames
The 20 most common surnames on gravestones recorded by us in the Kirkhope monumental inscriptions volume are (number of gravestones in brackets): SCOTT (22), MITCHELL (20), TURNBULL (13), NICHOL (9), BROWN (9), DAVIDSON (8), ANDERSON (8), KENNEDY (6), LITTLE (6), WILSON (6), JOHNSTONE (5), GRIEVE (5), SMITH (5), BLYTH (5), THOMSON (5), MURRAY (4), MABEN (4), DONALDSON (4), BOSTON (4), SYMINGTON (4).
Other sources
Two Centuries of Borders Church Life by J Tait Kelso 1891.
School Records
Kirkhope Public School Log Book 1873 to 1921 ref; S/ED/2/20.
Kirkhope School Admission Book 1876 to 1946 ref; S/ED/3/7.
Kirkhope School minute books, cash books, ledgers 1873 to 1919 ref; S/ED1/61-70.
Redfordgreen School Log Book 1855 to 1919 ref; S/ED/2/32.
Redfordgreen School Admission Book 1885 to 1935 ref; S/ED/3.
Parish Records
Parish Council Minute Book 1896 to 1906 ref; S/PR/1/5.
Parish Records 1854 to 1895 and 1905 to 1930 ref; S/PR/4/5.
Medical Records
Medical Inspection of Schoolchildren 1911 to 1920 ref; SBA/387/6.
Medical Officer of Health Annual Reports 1915 to 1962 ref; SBA/387/2.
School Health Administration annual reports 1928 and 1929 ref; SBA/387/5.
Lieutenancy Records
Militia Lists and muster rolls of the First Selkirkshire Rifle Volunteers 1807 to 1831.
Deputy Lieutenant's Minute Books 1797 to 1831.
Volunteer Returns 1803 to 1903.
Letter books 1804 to 1974. - ref; S/LR/1/1-5.
Militia and Military Records
Militia Lists for Ettrick, Galashiels Roberton, Selkirk and Yarrow 1807 and 1808. ref; D/42/6-7.
Return of men between the ages of 18 and 45 in the County of Selkirk. ref; D/42/16/3.
Pay Lists of the Selkirkshire Yeomanry Cavalry 1809 and 1812. ref; D/42/16/7 and 13.
Enrolment Book of the Second Selkirkshire (Ettrick Forrest) Rifle Volunteer Corps 1860 to 1904. ref; SC/S/12/36/1.
Berwickshire Naturalists' Club article;
Vol. 30 Tower and Linn Ettrick visited.
Websites;
Ettrick and Yarrow Valley Website contains a history of the area.
RCHAMS website Scotland's Places contains details of;
Medical Officer's of Health Reports 1891.
Place and Farm names in Census Records
1861 Census; Redfordgreen, Shirenscleuch, Drycleuchlee, Whithillsheil, Dodhead, North Glidesgreen, East Glidesgreen West Glidesgreen, Longhope, Fanns, Outerhuntly, Ladyside, Stenhopefoot, East Deloraine West Deloraine, Gilmanscleuch, Singlee, Kirkhope, Shaws, Hyndhope, Ettrickbridge Village, Brockhill, Woodend, Fauldshope, Hutlerburn, Whithillbrae, Howford, Helmburn, Cathaugh.
Population
The population has been recorded as follows: