This website uses cookies. To read more about them, click 'cookies stored'. To accept our cookies, click the check box then press 'Continue'.
Borders Family History Society

Our Archive and Search Room is open from 10am - 4pm on Tuesdays, Thursdays and Fridays - no appointment needed. Keep up to date via our Facebook page and Twitter.
Kelso
The Parish of Kelso is situated in the north east of Roxburghshire and it is bordered by the Parishes of Smailholm and Nenthorn, Berwickshire to the north, the Parishes of Ednam and Sprouston to the east, the Parish of Eckford to the south and the Parishes of Roxburgh and Makerstoun to the west. Kelso is now part of two parishes, Kelso Old & Sprouston which is linked with Kelso Country Churches and Kelso North & Ednam.

The town grew along siude alongside Kelso Abbey is one of one of the four great medieval abbeys in the Borders although it is the least well preserved. Situated on the north bank of the River Tweed the palatial Floors Castle home to the Duke of Roxburghe is on the edge of the town.

Old Parish Records cover the periods:

Births: 1598 to 1854.
Marriages: 1597 to 1854.
Deaths: 1614 to 1669, 1839 to 1854.

Kelso Parish Church
1841 census Kelso.
1851 census Kelso.
1861 census Kelso.
Monumental Inscriptions Roxburghshire Vol VII Kelso 2nd Edition 2011 (incoporating the Old Parish Church, Kelso Abbey and St Andrews Episcopal Church), edited by Elma Fleming, includes:

Hearth Tax
List of ministers
War Memorial transcription

Rosebank Cemetery Monumental Inscriptions (book and CD-ROM)
CD-ROM Kelso Poor Law and Ragged School Records.
See our sales list for full details and cost of postage.
Volumes available for consultation within our Archive
The Churches and Graveyards of Roxburghshire by Dr. G.A.C. Binnie 2001.
Rutherford's Southern Counties Register and Directory 1867.
County Directory of Scotland 1912 - Borders Towns and Villages.
A History of the Old Parish Church by Dr. J.L. Trainer.
A History of the Trades of Kelso by Dr. J. L. Trainer.
Index to Kelso Chronicle Death Notices 1853 by Vivienne Dunstan.
Index to Kelso Chronicle Death Notices 1854 by Vivienne Dunstan.
Kelsae by Alistair Moffat.
Kelso, Yesterday, Today and Tomorrow by Dr. J. L. Trainer.
Kelso, History in Focus by Alistair Campbell.
Wartime Memories of Kelso by Walter Turnbull and Bill Pattison.
Kelso North - One of Zion's Gates by Rev. Donald R Gaddes.
The Recollections of George Taylor - from Kelso to Kalamazoo.
County Directory of Scotland 1912 - Borders Towns and Villages.
Kelso Pioneer - the life of William Glass - Tristan da Cunha pioneer born Kelso. The Southern Annual, 1951
Kelso's Heritage - jewel in a radiant crown by Norman Douglas. The Southern Annual, 1951
CD-ROM Pigot's 1837 Directory of Berwickshire and Roxburghshire.
CD-ROM Kelso War Memorial - contains detailed information on those whose names appear on the War Memorial - researched by Ruth Holmes.
CD-ROM A Topographical and Historical Account of the Town of Kelso by James Haig 1825.
CD-ROM Slater's Directory of Southern Scotland 1878.
CD-ROM Land Ownership Commission Report 1872 -1873.
Magazine Articles
Please note that the heading Author includes persons who have compiled or transcribed records; and that the topics indexed, and the synopses are subjective opinions.
See the Sales List to buy copies of the magazines containing articles in which you're interested.
| Title | Synopsis | Size Description | Issue No | Author |
| --- | --- | --- | --- | --- |
| Forgotten Borderers--Andrew Walker (1808-1896) | Andrew Walker, born Earlston, worked at Newton Don and moved eventually to Camden and started a Ragged School. He emigrated to Troy in New York and died there. | less than 1 page | 30 | |
| Bowmakers and Currys in the new world | The history of the Bowmakers and Currys before and after they emigrated to the New World. | 1 page or more | 10 | Norman Bowmaker |
| Kelso's Ragged school | Case histories and fate of children in the 1800s who went to a Ragged School. These three names from the excellent book that Audrey has written will make you want to purchase this book. | 2 pages or more | 9 | Audrey Mitchell |
| Kelso Dispensary and Castleton Poor Law Records | Some notes by the author on his publication on CD of Poor Law records instancing some of the information available and mentioning various diseases mentioned. | 1 page or more | 75 | Peter Munro |
| Kelso Tradesmen Transcription Project | Note on a project to transcribe the records of 19th century Kelso tradesmen. | 1 page or more | 75 | Juline Baird |
| Revised and improved edition of Kelso Abbey, Old Churchyard and St. Andrews Monumental Inscriptions | Notes on the improved version of our gravestone inscriptions covering Kelso Abbey, Old Churchyard, Kelso and St. Andrews. | 1 page or more | 76 | |
| The Stewarts of Kelso | A report into extensive research into the Stewart family of Kelso, latterly of Edinburgh. | 5 pages or more | 77 | Harry D Watson |
| From Kelso to Kalamazoo | An account of the life of George 'Celery' Taylor' born in Kelso in 1803 gardener who emigrated to Kalamazoo, Michigan and is noted for introducing celery into the United States. Kept a detailed diary which also records his experiences on his return visits to Scotland in 1871 and 1874. | | 78 | Margaret Jeary |
| Kelso Abbey and Walter Scott's Kelso | Review of two books, Kelso Abbey and Walter Scott's Kelso looking in particular at the connection between Sir Walter Scott and the town. | 2 pages or more | 89 | |
| Border Murders | This is a stroll around the Borders looking into, with some depth, the murders in the 1800s. | 2 pages or more | 32 | Norrie Mcleish |
| The Gladstones-A study | This is a brief outline of the Gladstone family here in the Borders and as far away as Edinburgh, and Norwich. | 3 pages or more | 35 | G.M.S. Lauder-frost |
| Family History of George Tulloch (Tully) | Notes on a family history relating to the Tulloch (Tully) family. | less than 1 page | 93 | Judith E Tulloch |
| Anderson Family Legend | Three brothers shared their last sixpence at Kelso Fair and then parted company. How a lady searched for relatives. | less than 1 page | 8 | Mrs. Steele |
| Stoddart | Margaret Stoddart, born 1831, and her very interesting history. From stot-herd, one who tended cattle, 1376. Earliest mention in Douglas Barony of Buittle. | 2 pages or more | 38 | Audrey Mitchell |
| Swan Family of Jedburgh and Kelso | Recollections by the author's grandmother of life in Jedburgh and Kelso in the early twentieth century. | less than 1 page | 94 | John Falconer Swan |
| A grave look at the Borders | This must be one of the great stories ever to be printed in our magazine - it is the story of grave snatchers, and how one brave chap got his just reward. | 4 pages or more | 21 | Ian Abernethy |
| A Cockburn Family in Berwickshire and Its Descendants - The Book | The author's Cockburn family history - mostly recent. | 3 pages or more | 24 | Andrew Cockburn |
| An Opaque Glass | About William Glass (or Glasgow), who had become the first governor of the South Atlantic Island of Tristan da Cunha, honoured by the Friends of Kelso Museum in 1996. | 2 pages or more | 60 | Audrey Mitchell |
| CD Review - Kelso Poor House and Ragged School | Interesting review of the content of this much loved publication, and a bit on the social context of the Poor House and the Ragged School in Kelso. | 1 page or more | 67 | Norrie McLeish |
| Governor Glass | Some notes on William Glass, born in Kelso who went on to establish the colony of Tristan da Cunha in the South Atlantic and to become its first Governor. | 1 page or more | 75 | Ronald Morrison |
| Newspapers published in the Borders | Border newspapers published in the Borders, 65 in total. | 2 pages or more | 5 | Peter Elliot |
| A Sassenach Searches for his Scottish Ancestry | How the family name may have originated. Possible connections with Kelso. The Reiver Connections An interesting historical tale. | 5 pages or more | 39 | George Heaviside |
| The relationship of place names and personal names | The relationship is two fold: (1) Place names derived from personal names, (2) Personal names derived or adopted from place names. | 1 page or more | 21 | Jessie Macdonald |
| John Lee, Shoemaker in Kelso | Some details of the funeral of John Lee, shoemaker in Kelso 1802. Details of funeral arrangements and surnames of those attending the funeral. | 2 pages or more | 75 | Elma Fleming |
| Adam Clark (1811 to 1866) | A fascinating account of Adam Clark, born in Edinburgh but brought up in Kelso who became a bridge builder of renown in Hungary building the first bridge across the Danube linking the communities of Buda and Pest. | 4 pages or more | 79 | Dr. Jim Lyon |
| County Railway Routes - Berwick to St Boswells | Details of the book in the Country Railway Book series Berwick to St Boswells. | less than 1 page | 89 | |
| Maxwellheugh Cottage - the biography of a house | A review of the families who had inhabited a house on the outskirts of Kelso. | 8 pages or more | 73 | Isobel Gordon |
| A Berwickshire Schoolmaster | Jean Smithers has contributed this nugget from her investigations into the history of one of the strands of her ancestry. | 1 page or more | 11 | Jean Smithers |
| The men who marched away | If you have heard Gavin speak, you will know how he has devoted his all spare time to this subject this is the King's Own Scottish Borderers part in Gallipoli, another Flodden. Men missing: Gala 54, Hawick 52, Jedburgh 18, and so on. | 3 pages or more | 9 | Gavin Richardson |
| William Elliot, Architect | The family history of William Elliot and descriptions of some of the fine houses he built. | 3 pages or more | 15 | Kathleen Stewart |
| The Chisholms: Highland Names in the Borders? | This is not just about the Chisholms, it delves into place names in the Borders, why they changed their names and the Highland connections. | 4 pages or more | 28 | Michael Robson |
| More Extracts from the Kelso Mail 1804 | Miscellaneous Extracts from the Kelso Mail of 1804. | | 87 | |

Map of Kelso from UK Great Britain, Ordnance Survey one-inch to the mile (1:63,360), 'Hills' edition, 1885-1903
by kind permission of the National Library of Scotland.
Use the control at the top left of the map to zoom in or out and drag the map left, right, up, or down as you wish.

Map of Kelso from UK Ordnance Survey Historical Maps from 1919-1947
by kind permission of the National Library of Scotland.
Use the control at the top left of the map to zoom in or out and drag the map left, right, up, or down as you wish.
20 Most Common Surnames
The 20 most common surnames on gravestones recorded by us in the Kelso Abbey, Old Churchyard & St Andrew's monumental inscriptions volume are (number of gravestones in brackets): BROTHERSTON (157), SCOTT (111), THOMSON (71), WILSON (62), SMITH (59), BROWN (56), ROBERTSON (54), YOUNG (47), TURNBULL (47), MURRAY (46), BELL (45), ANDERSON (42), DOUGLAS (42), HENDERSON (38), PATTERSON (33), RUTHERFORD (32), PURVES (32), TAIT (31), HUME (27), WALKER (27).
Other Sources
A Topographical and Historical account of the Town of Kelso and the Town and Castle of Roxburgh by James Haig - Edinburgh 1825.
Kelso Records being traditions and recollections of Kelso by John Mason - Edinburgh 1834.
Kelso Past and Present by W.F. Vernon - Kelso 1873.
Glimpses of Kelso by J. B. Dickson - Kelso 1883.
History of Kelso Grammar School by James Smith - 1909.
Yesterday in a Border Parish by James Lindsay Hilson.
Historic Kelso by Audrey Mitchell - 1999.
Six Scottish Burghs by Andy MacMillan -1992.
The History and Antiquities of Roxburghshire and adjacent Districts by Alexander Jeffrey, 1864.
Two Centuries of Borders Church Life by J Tait Kelso 1891.
The Statistical Accounts of Scotland compiled initially between 1791 and 1799, with a subsequent edition between 1834 and 1845 are a valuable record of the geography, history, economy, people and customs recorded by local ministers. You'll need to search for the parish name.
Kelso Cemetery Mortality 1871-1929 (Ref - P/PR/1/11/34).
Kelso North Public School Log Book 1873-1878 (Ref - R/ED/2/49).
Ragged Industrial School - reports 1869 to 1888 (Ref - SC/R/99).
School Board Minute Books abstract books etc (Ref - P/ED/1/1/1-7).
Kelso School Census 1885 (Ref - R/ED/1/57).
Records of the Border Union Agricultural Society 1813-1874.
Kelso Parish General Register of Poor 1877-1930.
Kelso Combination Poorhouse Letterbook 1903 - 1906.
The Scottish National Archives, Edinburgh
Census Records
Kelso Parish Church (Ref - CH2/1173)
Baptisms and marriages 1696 to 1698.
Baptisms and proclamations of marriage 1840 to 1845.
Consignations.
Minutes 1622 to 1628, 1633 to 1661, 1668 to 1689, 1692 to to 1720, 1755 to 1780, 1795 to 1798 and 1800 to 1915.
Funerals 1798 to 1813.
Testificates 1693 to 1698.
Collections 1696.
Scroll Minutes 1724 to 1724, 1727 to 1739, 1742 to 1743, 1809 to 1820, 1830 to 1837 and 1845 to 1855.
Treasurer's Accounts 1701 to 1708 and 1751 to 1908.
Douglas Funds Accounts (for education of children in Kelso) 1782 to 1865.
Roll Book 1777 to 1801.
List of Communicants 1834 to 1876.
Cartulary 1760 to 1845.
Sabbath School; Income and Expenditure 1843 to 1888.
List of young communicants 1841 to 1843.
First Associate Session (Burgher) United Presbyterian Church (Ref - CH3/606)
Baptisms 1836 to 1850.
Baptisms 1851 to 1940.
Minutes 1753 to 1754, 1784 to 1791, 1803,1820, 1830 and 1847 to 1869.
Scroll Minutes 1844 to 1847.
Scroll Minutes of Meetings of Session and Deacons 1844 to 1847.
Manager's Minutes 1761 to 1842.
Money received 1788 to 1804.
Kelso East Relief Church (Ref - CH3/667 and CH3/818)
Baptisms 1813 to 1819 and 1824 to 1853.
Marriages 1825 to 1849.
Minutes 1825 to 1867 .
Kelso North Free Church (Ref - CH3/819)
Kelso East, Sprouston Free Church (Ref - CH3/1463)
Society of Friends, Quakers (Ref - CH10/1/25)
Births 1622 to 1787.
Marriages 1749,1753, 1778 (3 entries).
Deaths 1667 to 1695 and 1795.
Minutes of Meetings 1748 to 1791.
Visitors to Kelso meetings 1749 to 1795 .
Trades
Minutes of the Incorporation of Glovers and Skinners of Kelso ref; MSS 3081 to 3083.
Records of Kelso Races Ltd. 1812-1862.
Maps
1736 Survey of Floors Castle (Ref - RHP.3234).
1805 Chalkheigh (Ref - RHP 4434).
Roxburgh Estate and Sharpetlaw (Ref - RHP.4219).
1820 Kelso and surrounding lands (Ref - RHP.3630.
1820 Sketch plan of lots in Kelso (Ref - RHP.3542/1-3).
The Kings Own Scottish Borders Regimental Museum, The Barracks, Berwick upon Tweed
Roll Book of the Kelso Company of the Border Rifles 1879-1891.
Websites
Town Website contains background information and a history of the Town and local names.
A list of prizewinners at Kelso Grammar School 1853.
Stobie's Map of Roxburghshire of 1770.
Kelso Rugby Club
Kelso Race Course
The RCAHMS website Scotland's Places contains details of:
Farm Horse tax 1797-1798.
Medical Officers of Health Reports 1891.
Place and Farm names in Census Records
1841 census: Softlaw, Spylaw, Maisondieu, Spring Wood, Pinnaclehill, Wooden, Maxwellheugh Village, Galalaw, Muserig, Edenbank, Berrymoss, East Muirdean, Floors Castle.
1851 census: Mayfield, Spylaw, Wester Softlaw, Middle Softlaw, Maisondieu, Wooden, Pinnacle Hill, Maxwellheugh, Sharpitlaw, Berryhill, Muirdean, Galalaw, Floors Castle, Edenbank, Springwood.
1861 census: Springwood, Spylaw, Maisondieu, Softlaw, Proctors Smithy Huntershall, Maxwellheugh, Pinnaclehill, Wooden, Gallalaw, Muirdean, Floors Castle, Muserig, Broadloan, Berryhill, Edenbank, Oakfield, Broomlands, Butts, Union Poorhouse.
Population;
The population has been recorded as follows:
1749 - 2900
1755 - 2781
1792 - 4324
1801 - 4196
1811 - 4408
1821 - 4860
1831 - 4939
1841 - 5329
1851 - 5636
1861 - 5192
1871 - 4564
1991 - 4184
1911 - 3982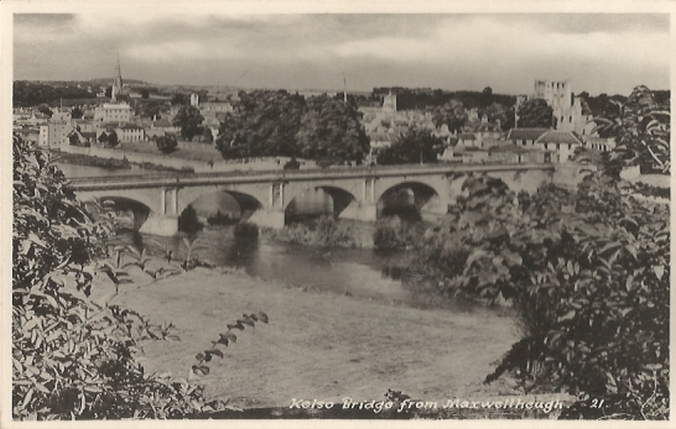 Kelso Bridge from Maxwellheugh



So far as we are aware, the copyright on these pictures has expired. However, if you wish us to remove the images and you can demonstrate that you hold the copyright, please contact us.